Course details
«Secretary-sama must-see» With benefits ☆ Wedding plan 3500 yen!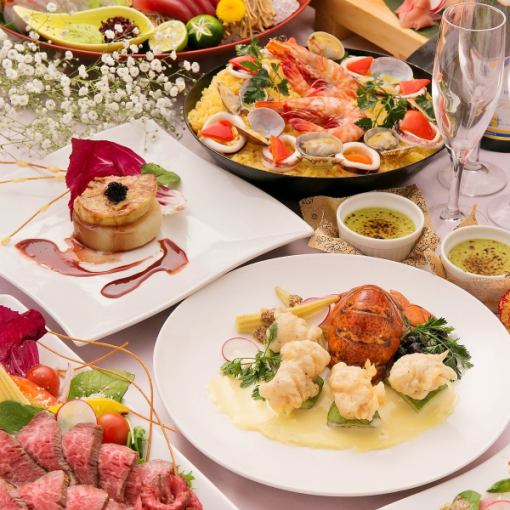 All-you-can-drink available

All-you-can-drinks such as authentic shochu, cocktail, and Japanese sake! ★ + 1000 yen further 【【All 18 Sake brewer's local sake】 as well as all you can drink! ♪ popular among people outside the prefecture ♪
Available days for reservation

Monday - Sunday - Public holidays - Holidays
Wedding party plan of wedding ceremony menu not supposed Wedding party plan ☆ Since it has additional benefits of strong support as a secretary, it is a safe plan even for the first secretary! 25 people for a maximum of 70 people 3rd floor OK OK !!
Course menu
· Ryoma horse eggplant and marinated tomato
· Garlic fragrant raw ham salad
· Otome Snapper Carpaccio Coloring vegetables and citrus jelly
·Taco rice
· Pork shoulder roasted roasted mustard sauce
· Small shrimp and mustard apricot
· Wine chicken and mushrooms Vallotine
· Fry fried wonton
· Cream Brulee Wedding Trim
※ The contents may change due to circumstances such as stocking.
«Secretary-like support benefits ♪»
· Free invitation letter
· Microphone loan
· Projector loan
· Lending room changing room
· Free welcome board creation
· Premium gift certificate
· Shinko bride receive a meal voucher of 5000 yen from the followers' banquet hall
※ If there are other hope etc., please do not hesitate to contact us!
All-you-can-drink menu
· High Bowl · Whiskey
· Beam high ball / horn high ball / cola high ball / ginger high ball / shochu high ball / ginger high ball / village Yuzu high ball / whiskey (water split · lock)
·beer
· 【Draft beer (medium / pitcher)】 Asahi Super Dry 【Beer】 Asahi Super Dry (Medium bottle) / Style Free sugar 0
· Fruit beer
· Mango beer / Muscat beer / Pine beer / Peach beer
· Sour · Shochu High
· Plum / lime / yuzu / calpis / lemon / sea coater / raw grapefruit / green apple / gigantic / lychee
·wine
· Red wine / White wine / Homemade Sangria (HOT · ICE)
· Plum wine · Fruit wine
· Treasures plum wine full / white plum wine (with citric acid pleasing to the body) / red plum wine (shiso + plum + grape) / yuzu / pine wine / peach sake / muscat sake / mango sake / apricot sake (soda lock) / Litchi liquor (soda lock)
·Sake
· Buddy / Tosa crane
· Shochu
· 【Potato】 Satsuma White Wave / Black Kirishima / Red Kirishima 【Wheat】 First Bill / Nichiko 【Awamori】 Kume Sen 【Rice】 Sencho 【Chestnut】 Davada Fire / Dabada Rose 【Shiso】 Kokoro Tan [Brown sugar] Unicorn
·Cocktail
· Pieron / Fazy Negble / Cassis Soda / Cassis Oolong / Cassis Orange / Madame Rose / Kalua Milk / Liberal Arboretum / Gin Tonic / Cassis Leaple / Pine Leaple / Peach Leaple / Plum Leaple / Riesel
· Other alcohol
· Tomato no alcohol / VSOP (water split · lock)
·Non-alcoholic
· Dry zero (bottle 334 ml) / zero zaku (Chardonnay sparkling taste) / Tosa's YAMA / Tosa's UMI / Tosa's DAICHI / Tosa's HANA
·Soft drink
· Oolong tea / Calpis / ginger ale / cola / orange juice / leaf / melon soda
2018/12/04 update